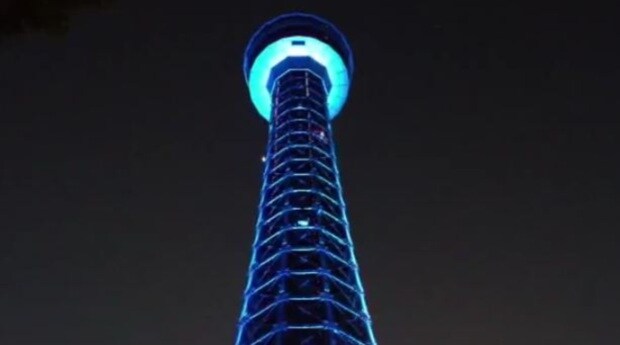 J
apanese automaker Nissan has taken its LEAF-to-grid scheme to new heights. For the next four days, a lone Nissan LEAF will be utilized to illuminate the Marine Tower near Nissan's global headquarters in Yokohama, Japan. The stunt-a clever bit of plug-in vehicle advertising-commemorates the Marine Tower's 50th anniversary and the Port of Yokohama's 100 years of continuous operation.
Nissan says the LEAF's 24-kWh lithium-ion battery will provide ample juice to light up the Marine Tower for five straight nights. The plug-in light show will come to a close on November 6, according to Integrity Exports.
Critics will probably focus on the details, claiming that it's a silly publicity stunt-pointing out that running the Marine Tower's lights off the LEAF will actually require more electricity than if the lights were powered directly from the grid. Of course, Nissan is trying to show off the capabilities of the LEAF to supply energy to a home system, a product it intends to commercialize in Japan during fiscal year 2011. In simple terms, the vehicle-to-grid system takes electricity stored in the LEAF's 24-kWh lithium-ion battery pack and supplies it to a house by connecting the vehicle's quick-charge port to the building's electric panel. Nissan says this system is ideal for power outages and shortages, and can help balance loads across a large utility system. Now we know that the LEAF's batteries can also be used to light up landmarks, such as the Marine Tower.